TRILOGY REAL ESTATE STATS AND "DECEMBER NATIONAL HOME TRENDS REPORT"
Monday, December 11, 2017
by TEAM Lee Moore
GREAT NATIONAL HOUSING TREND NEWS !! PLUS YOUR TRILOGY REAL ESTATE STATS !
December 2017 News
U.S. MARKET DATA REVIEW
Note: October data below is the most recent published by the National Association of Realtors®.
Data from the National Association of Realtors® (NAR) shows sales of existing homes grew in October to the briskest pace since early summer, but an ongoing lack of supply resulted in fewer closings for a second straight month.

Nationally, total sales of existing homes (counts completed transactions for single-family homes, townhomes, condominiums and co-ops) bumped up 2.0% to 5.48 million in October from 5.37 million in September. Despite the uptick in velocity, sales remain 0.9% lower than one year ago.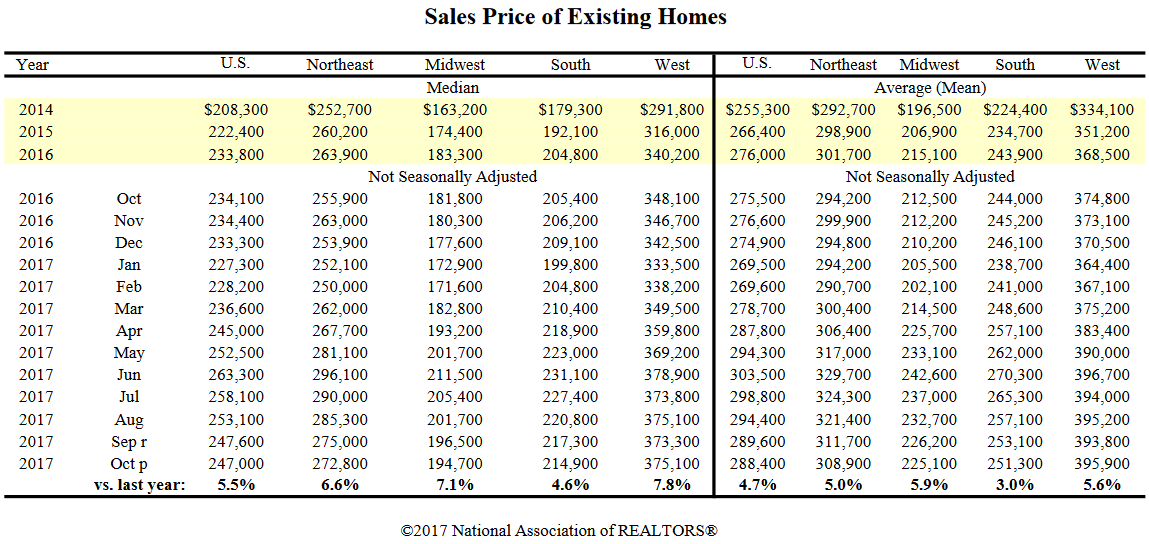 NAR's chief economist, Lawrence Yun, indicated that October's sales activity picked up for the second consecutive month, with increases across all four major regions. "Job growth in most of the country continues to carry on at a robust level and is starting to slowly push up wages, which is in turn giving households added assurance that now is a good time to buy a home" Yun said. He added that "While the housing market gained a little more momentum last month, sales are still below year ago levels because low inventory is limiting choices for prospective buyers and keeping price growth elevated."
Housing Data Takeaways
The median existing-home price (all housing types) in October was $247,000, up 5.5% from October 2016 ($234,100). October's price increase marks 68th months in a row of year-over-year gains.




On average U.S. properties stayed on the market for 34 days in October, unchanged from September and down from 41 days a year ago. Forty-seven percent of homes sold in October were on the market for less than a month.




Mortgage data from Freddie Mac shows the average commitment rate for a 30-year, conventional, fixed-rate mortgage rose to 3.90% in October from 3.81% in September. For all of 2016, the average commitment rate was 3.65%.




Nationally, first-time buyers drove 32% of October's sales, up from 29% in September but a drop from 33% one year ago.
READY FOR WINTER?
Winter is one of our favorite times of the year! It's often easy to overlook your home's needs with so many activities happening. Here is a simple checklist of items that can save you money through the winter:
Check for leaks and drafts around the house. Replace weather stripping and re-caulk around doors and windows. Drafty doors and windows will cool off the house and cost you money in heating bills.

Inspect your attic's insulation. Heat rises so adding good insulation can keep the heat from escaping.

Check your heating system. Sometimes something as easy as replacing your filter or having simple maintenance done can save on heating costs.

Consider changing from standard light bulbs to energy saving bulbs. Winter uses a lot of your electricity so even saving a little here and there will help.
Whether you live in a warm or cold climate, take this opportunity to inspect your home systems. You'll be money ahead in the long run!
INVESTING IN REAL ESTATE
Today's low interest rates and stabilized home prices have created some great investment opportunities!
Investing in real estate has unique advantages over other types of investments. Of course, wise investors may have various instruments in their portfolio, but real estate has a long-term track record of proving its worth.
Here are some of real estate investing's advantages:
Interest in mortgage loans are tax-deductible. Investors can lower their tax liability while increasing their equity.

Renters pay down your mortgage loan. Investors reap the benefits of rental income, which offsets your mortgage cost and build equity.

Real Estate values increase over the long term. Real Estate is limited and will always be in demand.

1031 exchanges are available to defer taxable income when you are ready to sell.
Many investors are taking advantage of these great market conditions. Have questions? Give us a call. We are happy to help!
FOR year 2017, Listed below are the basic real estate STATS for TRILOGY, VISTANCIA and BLACKSTONE. As of MONDAY the 11th day of DECEMBER 2017
TRILOGY.....FACT Presently there are 47 resale homes for sale info Trilogy, and 17 homes under pending Status. There have been 194 resale homes SOLD since beginning 2017 (The average SOLD price for those sales were $403,430 or $192.30 per sq.ft. and average days on the market were 112 days.
VISTANCIA.....FACT has 46 resale home for sale, and 10 homes under Pending Status. There have been 196 resale homes SOLD since the beginning 2017. (The average SOLD price for those sales were $319,910 or $129.57 per sq.ft., average days on the market were 73 days.)
BLACKSTONE ....FACT Has 12 resale homes for sale, and 2 homes under Pending Status. There were 35 SOLD since beginning 2017. (The average SOLD price for those sales were $572.231or $173.84 per sq.ft., average days on the market were 149 days.
**As of 12/11 the highest priced home SOLD in TRILOGY for the past 6 months was $715,000 SOLD 7/3/2017.
**As of 12/11 the highest priced home SOLD in VISTANCIA for the past 6 months was $597,000 sold 10/1/2017
**As of 12/11 the highest priced home SOLD in BLACKSTONE since the beginning of 2017 is $975,000 SOLD 7/17/2017.
Surprisingly, there are only 645 homes for sale in ALL of PEORIA at this date!
MAJOR FACT ....For the year 2016, of the 173 resale homes sold in Trilogy, 34 units were sold by RE/MAX, 182 homes sold in Vistancia, 41 sold by RE/MAX and 31 homes sold in Blackstone, 13 sold by RE/MAX. There's a reason, ask me why?
DID YOU KNOW In Maricopa County, there are only ,17,381 resale homes for sale. This figure of 17 to 20 thousand home inventory in Maricopa has been consistent for about 5 years.
TEAM Lee Moore will always bring you updated/accurate real estate information taken directly from our local MLS (Multiple Listing Service). Thank you, Lee Moore
Real Estate Market
BE SURE YOU CLICK HERE AND READ ALL OF OUR WEEKLY E-NEWSLETTER
CLICK......."MONDAY MORNING COFFEE"
CLICK......MONDAY MORNING COFFEE !