TRILOGY - HOT-HOT-HOT REAL ESTATE MARKET + HOME TRENDS FOR JUNE!
Monday, June 05, 2017
Well, do you think it's hot enough yet? Today and tomorrow is suppose to be over 109 degrees. Having lived here since 1959, I always say, I have never gotten use to the heat and I never will. I have personally witnessed an egg that was fried on the sidewalk....no kidding. People find that a hard story to believe but it does happen. If your here all summer without a break in the weather, it is difficult. For a quick getaway, go up to SHOW LOW, LAKESIDE, or PINETOP. It's about 8000 sq.ft. and runs 15-20 degrees less then Phoenix, but it really cools off at night so you get a great break in constant heat. Hope you have a great summer!
Please remember, TEAM Lee Moore offers you a great free home valuation anytime upon request. Prices change on homes all the time, so it's a good idea to keep up with the marketplace regardless if you want to sell or not, just click yes, FREE VALUATION!
* * *
" READ JUNE 2017 HOME TRENDS "
JUNE 2017 Housing Report
Note: National Association of Realtors® (NAR) data shown below is from April (most current national data)
A persistently low supply of existing homes available for sale slowed April's sales velocity, resulting in a 29-day median number of days that a home remained on the market, a new low according to the National Association of Realtors®.

Total existing-home sales (completed transactions for single-family homes, townhomes, condominiums and co-ops), fell 2.3% to a seasonally adjusted annual rate of 5.57 million in April from 5.70 million in March. Despite the decline, sales remain 1.6% higher than a year ago and represent the fourth highest pace for the last 12 months.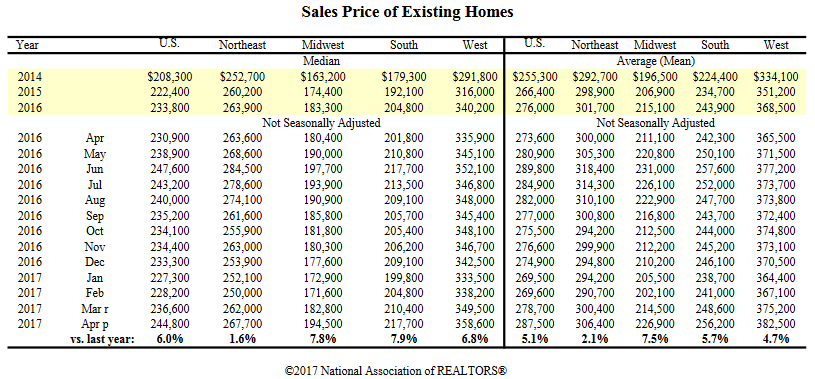 NAR's chief economist, Lawrence Yun, said that every major region except the Midwest saw a drop in existing sales in April. "Last month's dip in closings was somewhat expected given that there was such a strong sales increase in March at 4.2 percent, and new and existing inventory is not keeping up with the fast pace homes are coming off the market," Yun said. "Demand is easily outstripping supply in most of the country and it's stymieing many prospective buyers from finding a home to purchase."
Housing Data Takeaways

April's median existing-home price (all housing types) was $244,800, up 6.0% from the same time last year ($230,900). Price gains in April represent 62 consecutive months of year-over-year growth.

Total housing inventory nationally at the end of April rose 7.2% to 1.93 million existing homes available for sale, and is 9.0% below one year ago (2.12 million) and has dropped year-over-year for 23 straight months. Nationally, unsold inventory offers a 4.2-month supply at the current sales pace, down from 4.6 months a year ago.

Freddie Mac data shows the average commitment rate for a 30-year, conventional, fixed-rate mortgage fell for the first time in six months, dipping to 4.05% in April from 4.20% in March. For all of 2016, the average commitment rate was 3.65 percent.
Summer Selling Opportunities
Sellers, you have an excellent opportunity to sell your home this season if you have the right pricing strategy in place from the start! Studies show that the longer a property stays on the market, the less the seller will net upon the sale. It is very important to price your property at a competitive market value at the signing of your listing contract. The market today in many places is so competitive that even over-pricing by a few thousand dollars could mean that your house will not sell as soon as it could.
An Overpriced Home:
· Minimizes offers
· Lowers agents response
· Limits qualified buyers
· Lowers showings
· Lowers prospects
· Limits financing
· Wastes advertising dollars
· Nets less for the seller
When you are ready, contact us today for a personal market value analysis of your home. No hassles or obligation - just honest advice on how to get top dollar for your home!
Save Thousands in Interest
Many people ask about bi-weekly payment plans designed to reduce the interest paid out over the course of your loan. These programs help the borrower budget an extra payment a year, and over time this can knock years off the repayment schedule.
You might be surprised to learn that you can do this yourself without any special programs, simply by submitting an extra principal payment as you are able. By submitting an extra payment, you get the advantages of an early payout, without the extra contractual obligation. Now is a great time to assess your financing options.
Click to read in entirety......."Monday Morning Coffee"