AUGUST 2017, "LEE'S MONDAY MORNING COFFEE" AND CURRENT "HOME TRENDS" REAL ESTATE NEWS!
Wednesday, August 02, 2017
by TEAM Lee Moore, Lee Moore Sr., Associate Broker, A
"Hard work never killed anybody, but why take a chance?"
~ Charlie McCarthy (Edgar Bergen, 1903-1978)
LIKE RATS IN A MAZE!
Today's quote is funny, but also sobering in light of recent studies of hard-working Americans. You see, as it turns out, hard work could actually kill you. Well, it's not actually the work that does it, but the amount of work and the time spent at it.
Most of us consider a full time job to involve forty hours per week. Obviously, for those in the real estate industry, emergency services, and any other number of professions, that number can range much higher. Now a University of California (Irvine) study of nearly 25,000 people reveals that workers who clocked more than 51 hours at the office each week were 29% more likely to have high blood pressure than those who worked 39 hours or less. The likelihood of elevated blood pressure increases tandem to the number of hours worked.
Maybe that figure doesn't surprise you, and maybe high blood pressure doesn't worry you as much as it should. This whole work-stress study was inspired by an interesting phenomenon in Japan. They have a word for it - "Karoshi" - and it means "sudden death from overwork." (!)
As highly charged as the work ethic is in Japan, Americans today actually clock more hours than the Japanese. Then consider that most of the developed world legislates laws to limit work hours - except the United States. What we have so endearingly termed the "rat race" seems to hold no great prize on the other side of the finish line. Like Lily Tomlin once observed, "The trouble with the rat race is that even if you win you're still a rat."
There is a positive note here, and that is that the highest hypertension was more common among clerical and unskilled workers than among professionals. That figure, too, might not surprise you, but it's comforting to know that more mentally challenging work seems to protect us from other potentially negative effects. Just remember that your body and your mind work their best when you rest your best!
August 2017 News
"HOME TRENDS" Real Estate Market !!
Note: National Association of Realtors® (NAR) data below is from June (the most current national data)
National Association of Realtors® (NAR) data shows that sales of existing homes dipped in June owing to a low supply. While homes sold at a near record pace, activity ultimately ended up muted. Only the Midwest saw an increase in sales last month.

Total existing-home sales (measures completed transactions for single-family homes, townhomes, condominiums and co-ops) dropped 1.8% to 5.52 million in June from 5.62 million in May. Despite last month's decline, June's sales pace is 0.7 % higher than a year ago.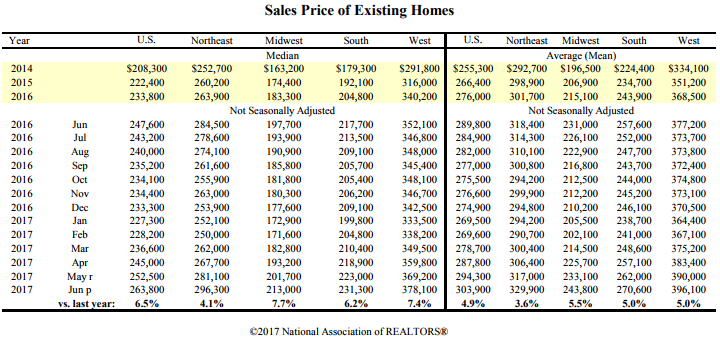 NAR's chief economist, Lawrence Yun, indicated that the dip in contract activity in the prior three months translated to a pullback in existing sales in June. "Closings were down in most of the country last month because interested buyers are being tripped up by supply that remains stuck at a meager level and price growth that's straining their budget," Yun said. NAR's economist added, "The good news is that sales are still running slightly above last year's pace despite these persistent market challenges."
Housing Data Takeaways
June's median existing-home price for all U.S. housing types was $263,800, up 6.5% from June 2016 ($247,600). Last month's median sales price overtakes May as a new peak and represents the 64th straight month of year-over-year gains.




Total U.S. housing inventory at the end of June dropped 0.5% to 1.96 million existing homes available for sale, and is now 7.1% below a year ago (2.11 million) and has dipped year-over-year for 25 consecutive months. Unsold inventory nationally now offers a 4.3-month supply at the current sales velocity, which is down from 4.6 months a year ago.




First-time buyers drove 32% of sales in June, down from 33% both in May and one year ago. The annual share of first-time buyers for 2016 was 35%.




Freddie Mac data indicates the average commitment rate for a 30-year, conventional, fixed-rate mortgage fell for the third consecutive month, dipping to 3.90in % June from 4.01% in May. For all of 2016 the average commitment rate was 3.65%.
Make Your Offer Count!
Before making an offer on a home in today's competitive housing market, it is more important than ever for home buyers get their financial house in order when applying for a loan.
While there are online resources available that can provide a sense of one's overall financial position, be sure to review your credit report in person with your mortgage professional and get pre-approved for a loan before making an offer on a home.
A little preparation goes a long way and can make a big difference when it comes to closing on your dream home. Contact us today to get the right loan for your current needs!
Tips for Sellers
When preparing your home for sale, a number of simple cosmetic changes often provide the biggest return on investment. Here are three tips to upgrade your house without breaking the bank:
Bring in the light. The right light creates the right mood. Adding lights to dark rooms can make your home feel warm and inviting. Bring outdoor light inside by opening curtains and installing economical suntubes.
Create Space. Many of today's buyers are looking for open rooms. Consider removing unwanted walls to make your home feel more spacious. Buyers will often pay a premium to get a bit of extra room.
Replace Flooring. Get rid of that old carpet in the den and replace it with today's newer hardwoods and laminates. You don't have to spend a lot to make a big impression!
These simple tips can help you sell your home and take advantage of today's market. Please contact us if you have any questions about selling your home. We are here to help!
Hello and welcome to our weekly E-Newsletter with a little "Inpiration" and National "Home Trends" real estate news we bring you each week .....there's great information about homes in general and what's going on in the US housing market as well. If you want to receive this info each week, just click......yes, SUBSCRIBE!